El Rito[BR-SCR 720P+480P] [ESP-MIC](Multiserver)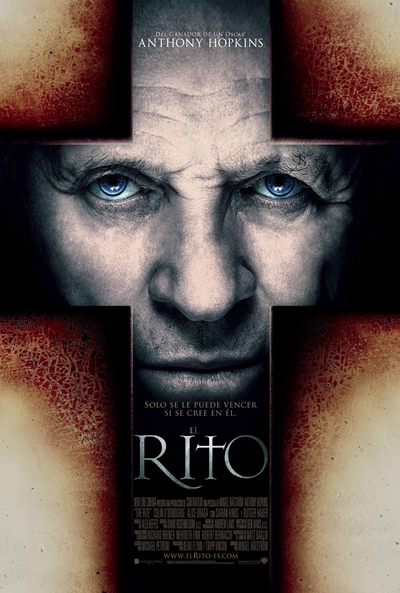 Título: El rito
Título original: The Rite
País: USA
Estreno en USA: 28/01/2011
Estreno en España: 18/03/2011
Productora: New Line Cinema (Warner Bros.)
Director: Mikael Hafstrom
Guión: Michael Petroni
Reparto: Anthony Hopkins, Ciarán Hinds, Alice Braga, Colin O'Donoghue, Toby Jones, Rutger Hauer, Chris Marquette, Torrey DeVitto, Maria Grazia Cucinotta, Marta Gastini, Arianna Veronesi, Ben Cheetham, Marija Karan, Rosa Pianeta
Calificación: No recomendada para menores de 16 años



Sinopsis:


Basada en hechos reales, cuenta la historia del seminarista Michael Kovak (Colin O'Donoghue), al que envían a estudiar exorcismo al Vaticano a pesar de sus dudas sobre esta polémica práctica e incluso sobre su propia fe. Con su profundo escepticismo como armadura, Michael desafía a sus superiores a buscar el problema en la psiquiatría en vez de en demonios a la hora de tratar con personas poseídas.

Hasta que no le envían como aprendiz del poco ortodoxo Padre Lucas (Anthony Hopkins), un legendario sacerdote con miles de exorcismos en su haber, la armadura de Michael no empieza a caer. A medida que se introduce en un preocupante caso que parece trascender incluso la habilidad del Padre Lucas, empieza a vislumbrar un fenómeno que la ciencia no puede explicar ni controlar, un mal tan violento y terrorífico que le lleva a poner en tela de juicio todo en lo que cree.

Notas de Producción:
- Basada en el libro de Matt Baglio, 'The Rite: The Making of a Modern Exorcist'.



¡¡¡ 1 solo link ¡¡¡

Free File Hosting, Online Storage &amp File Upload with FileServe



¡¡¡ 1 solo link ¡¡¡

Free File Hosting, Online Storage &amp File Upload with FileServe




PARTE 1: Free File Hosting, Online Storage &amp File Upload with FileServe
PARTE 2: Free File Hosting, Online Storage &amp File Upload with FileServe
Unir con Winrar



PASS PARA DESCOMPRIMIR: http://warezkenneth1.blogspot.com/